2021 marks the twenty-year anniversary of Comfort Solutions Heating & Cooling. A lot has changed over the last 2 decades and even more as we look far back in history. One thing hasn't changed, Mr. Comfort "aka" Brian Adams founded the company because he wanted to give homeowners a better option for the heating and cooling needs. There are countless stories of customers who trust us with their HVAC needs and look forward to seeing us during routine maintenances or follow-ups. Our technicians take the time to go over all the details of how we service their home. We get wonderful reviews like, Alex "My experience with Comfort Solutions and the team from beginning to end was incredible. They were prompt to come to my house and provide an estimate, it was a fair price, and they provided guidance along the way. The installers were professional and customer driven, continually saying 'we want to ensure that YOU are happy in the end'. Overall it very positive experience and I would highly recommend them."
So when it comes to choosing an HVAC company, we hope you'll turn to a local family business that focuses on providing the best possible solutions. We will continue to be in your neighborhood and look forward to hearing from you.
In celebration of our anniversary, we are having a sweepstake and Comfort Solutions is giving away $20 Coffee Gift Cards. To enter or see the rules visit: Comfort Solutions Sweepstake. You can also share this on Facebook by clicking the button below and LIKE, COMMENT & TAG A FRIEND to be entered.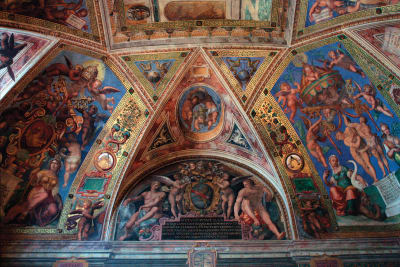 A Tale of Two Masterpieces
In the fall of 2014, Carrier installed an innovative heating, ventilating and air-conditioning (HVAC) solution at the Sistine Chapel, specially developed to help preserve Michelangelo's masterpieces against deterioration caused by an increasing number of visitors.
The new system uses two Carrier® AquaForce® 30XWV water-cooled chillers with Greenspeed® intelligence, each with 580 kilowatts of capacity. It leverages specially designed software and components, as well as patented, energy-saving technologies to maintain optimal climate conditions for the protection of the paintings within the chapel. An intelligent system of controls, linked with an advanced video application, enables the HVAC system to anticipate visitor levels and adjust its performance intuitively. To ensure the smooth operation of the new system, the Vatican has chosen to enter into a five-year maintenance contract with Carrier Distribution Italy SpA.
"Our aim now is not restoration, but conservation. This is why we have chosen Carrier, because a masterpiece like the Sistine Chapel needs a comparable masterpiece of technology," said Antonio Paolucci, director of the Vatican Museums. More about the story…
Follow us on social media